By Eric Beard
Despite what the tabloids may tell you, Roberto Di Matteo is the manager for West Bromwich Albion. However, he isn't all that different from Man City manager Roberto Mancini. Both played for Italy (Di Matteo: 44 caps. Mancini: 36). Both played for Lazio for a solid three seasons. And, perhaps most importantly, both played in England at the end of their careers, although Mancini made just 4 caps with Leicester City while Di Matteo made over 100 for Chelsea. Mancini may make the headlines (even when he isn't remotely connected with a story), but Di Matteo is the sometimes scarf-wearing manager who actually knows the English brand of calcio.
Not only did Di Matteo get the Baggies promoted from the Championship in his first season in charge as manager, but he's also taken to the English attacking mentality rather than a typical defensive mindset found in Serie A. However, Di Matteo's fondness for the English game is not without the flair and finesse from the land of Gli Azzurri. West Brom don't just work hard, they look good while doing so.
And West Brom are not just here to get relegated once again. After the 3-2 win at the Emirates against Arsenal, Di Matteo said, "We are trying to change the reputation of the club. That's our aim and if we can do that then we've achieved what we want to."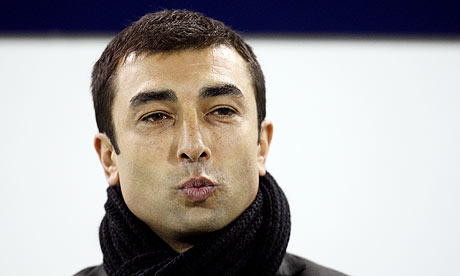 He continued, "Arsenal have a fantastic, great manager who I admire. [Arsene Wenger] gets his teams playing some great football."
The ambition is clear to see in Roberto Di Matteo.
"Every club has pressure - just different sorts of pressure. Our pressure is to change the reputation of the club, to stop us being labelled a yo-yo team. We got promoted last year which was a hell of an achievement as a club."
No kidding. Despite what Newcastle fans may tell you, getting promoted from the Championship is no easy feat. It requires physical and mental endurance to stay strong throughout a 46 game season. To think that Di Matteo's confident, consistent mentality will change just because his side is in the Premier League is just not true. Di Matteo is searching for progress, but he is not forgetting the philosophy he has already implemented.
The key to success in the Premier League is in the details. Roberto Di Matteo is learning, and what he wants is tangible.
"The way I want to play is about more than just pretty football. I want results. It's not our philosophy to defend. You need belief to get a result like this [one against Arsenal]…. We harassed Arsenal all over the pitch, so they were not able to play their usual way. It is not as if we were lucky in scoring. We played some tremendous football and defended well, too, as you have to against Arsenal. We got a hammering at Chelsea. But we have learned. We tried to remove the mistakes we made on the opening day."
It's time to pay tribute to a man who is well on his way to establishing himself in top-flight football. He was not given £200m to splash, but he has made a cohesive unit that is prepared to compete with the best England has to offer. The 40-year-old is hear to stay. And though the victory against Arsenal was arguably the best of his career, throughout the next few years we could see the Premier League cultivate Di Matteo into one of the world's best. Who knows? Maybe The Daily Star was not simply ignorant to think Di Matteo was Mancini. Maybe it was merely recognising potential (while maintaining a reputation for despicable journalism).
What do you make of Di Matteo? Comments below per favore?